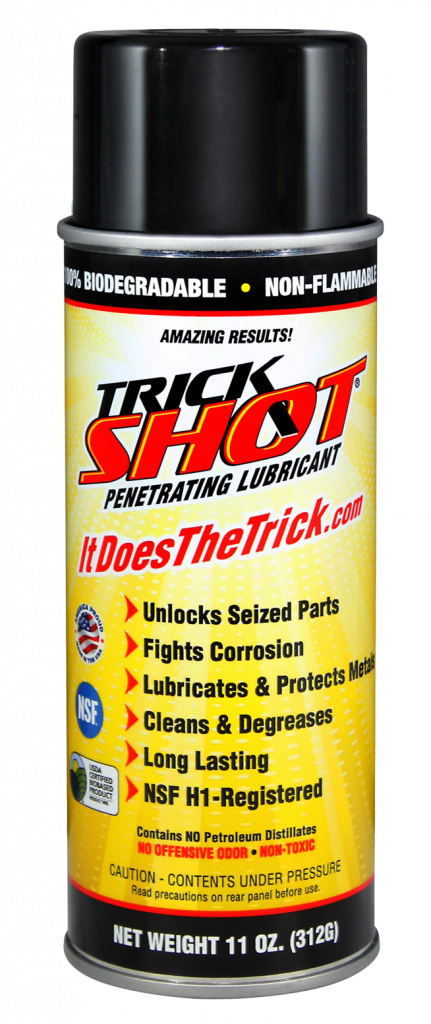 Trick Shot® is a high-performing penetrating lubricant that lubricates, prevents rust, unlocks seized parts, fights corrosion, cleans and protects. It is also a "green" product. It is non-flammable, non-toxic, 100% biodegradable and safe for the environment.
You can be sure that It Does The Trick® so give it a shot today!
ECO-SAFE!
Ideal for Marine Applications
Trick Shot® is 100% biodegradable which makes it ideal for marine applications. It is safe for waterways and the environment.
NON-FLAMMABLE!
Your safety, our concern
You can be confident and enjoy worry-free use where flammability is concerned.
Team Trick Shot, driver Andrew Gordon, and the crew from STAAR Companies are heading to Bristol, TN, for the NASCAR Camping World Truck Series! We have just over a week left before we hit the road. The paper work is getting its last look over and the truck is almost done and ready to be wrapped. Tune in to Wild Wednesday this week, live Wednesday at 2pm on STAAR Companies Facebook Page, to get an update on the race and more. Also be sure to like and follow Trick Shot and STAAR Companies on Facebook for the most up to date information and upcoming LIVE broadcasts from our road to Bristol!