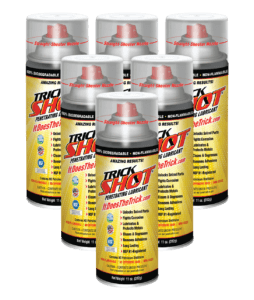 $80.00

Shipping & Handling EXTRA
Shipping within Continental U.S. Only
Product Specifications
Pack Item #: –
Pack Weight: –
Pack Dimension: –
Pack Cubic Ft.: –
Pack UPC: –
Trick Shot®
Six-Shooter Pack – 11 oz. Aerosol Can
Use Trick Shot® Penetrating Lubricant with confidence for all your tough applications to unlock seized parts, fight corrosion, prevent and penetrate rust, lubricate, protect and clean. The straight shooter nozzle shoots a concentrated stream allowing you to hit your target, minimizing overspray. Trick Shot® Penetrating Lubricant is 100% biodegradable and not harmful to the environment making it ideal for marine, automotive, industrial, food processing, agricultural and household applications.
DIRECTIONS FOR USE:
Protecting – Spray onto all types of metals and other corrosion-prone surfaces to protect against the elements including salt water, that can cause rust and corrosion.
Penetrating – Spray onto rusted, corroded, squeaky, or seized parts. Allow a few minutes for the penetrating properties to restore action. This will be enhanced by moving or tapping the part. Severe cases may require more than one application.
Lubricating – Spray onto area to lubricate moving parts such as hinges, locks, rollers, wheels, pulleys and other rotating parts to eliminate squeaks and friction providing better performance. Ideal for harsh environments.
Cleaning/degreasing – Spray onto affected area to remove scuff marks, adhesives, gum, tar, etc. Great for stainless steel.
CONTAINS: Soy Bean Oil (CAS #67784-80-9) and
Nitrogen (CAS #7727-37-9)
CAUTION: KEEP OUT OF REACH OF CHILDREN. CONTENTS UNDER PRESSURE. Do Not puncture or incinerate container. Do Not expose to heat or store at temperatures above 120°F (49°C).
FIRST AID: In case of eye contact, flush thoroughly with water for 15 minutes and get medical attention. For skin contact, wash with soap and water. If overcome by vapors, remove to fresh air. If swallowed, do not induce vomiting, contact physician immediately.